Acro-cats
So yesterday I was watching a little Animal Planet about some guy in Vegas who uses tigers in his magic show on the Strip and I experienced an epiphany.
Why haven't I thought about this before?
I am destined to be a glitzy Vegas entertainer! Soon it will become a reality:
the fame,
the mansion,
the sparking backyard pool,
the babes,
the cars.
I
will
be the first cat featured on MTV's
Cribs
.
So here's the title of the act: Nimbus and his Acro-cat, Moby.
I have already started training the little guy: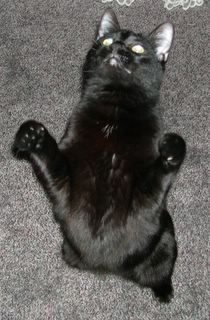 I thought I could do a little singing too…I even came up with a stage name for myself:
Wayne Nimbus
. I don't think "Mr. Las Vegas" will mind since he is no longer a nightly act in town.
PS: Max, the Psychokitty…when I get this thing going, I may be calling on you to be my understudy. I know you sing well too.
Signed,
Wayne Nimbus
"The Entertainer"