My Belly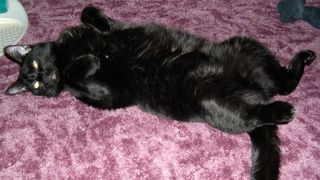 Here is it, in all its glory...

I believe my belly is my most attractive asset. It's fuzzy, soft, and it feels oh so good to be rubbed.
Everyone just naturally gravitates toward it. The other day I went to go visit this guy named Dr. Thomas the veteranarian. He was grabbing at my belly pretty intensely, so I said, "Hey guy, if you really want to rub my belly that badly, here it is." Then I flipped on my back and let him have it. The sight of my belly instantly brought a smile to his face.
The only thing better than a simple belly rub is what I call the "ear-belly combo," in which the area right behind the right ear is rubbed in conjunction with the belly. Purrrr...
In conclusion, my belly is perfect. I hangs down just enough to let humans grab it and rub it, but no so far as to brush the ground.
Your belly-licious feline,
Nimbus Cat